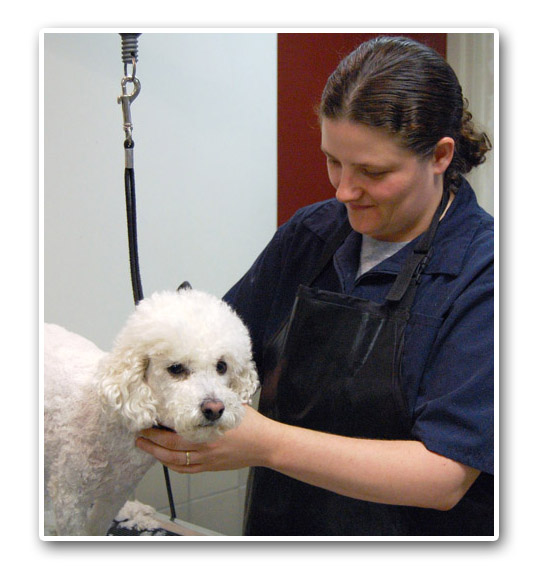 Charlotte Pet Grooming
When it comes to companion pet care, Parker Veterinary Hospital wants to be your full service veterinary center, meeting every need of your furry or feathered "family member."  This is why in addition to top quality medical care, we also offer grooming services at our convenient Charlotte location.  We know that our pet owner clients want to keep their companion pets feeling good and looking good!
Our professional grooming staff looks forward to customizing any cut to meet your unique grooming requests.  We are comfortable and experienced grooming all common canine breeds.  Our grooming is veterinarian supervised, and all services are administered with the kindness and compassion on which Parker Vet has built our longstanding reputation. Our grooming services include:
Baths
Coat conditioners
Medicated dips
Styling, traditional and custom cuts
Nail trimming
Ear cleaning
Why Visit Parker Veterinary Hospital in Charlotte, NC for Regular Grooming?
Above and beyond the obvious benefits of keeping your four-legged family member looking pretty, there are added health benefits that come with regular grooming.  Keeping up with your pet's hygiene helps to prevent bacteria, mites, fleas and ticks from making their homes in an ungroomed pets overgrown, dirty fur.  Along with the physical health benefits, regular grooming can also affect your pet's mental well being. For example, an ungroomed dog whose hair has grown long enough to impair his vision may act aggressive or fearful, simply because he can't see well.  Regularly groomed pets tend to act happier, friendlier, more predictable and less aggressive than those whose grooming needs are neglected.
Parker Veterinary Hospital strives to provide all the services that your companion pet needs to stay healthy, inside and out.  Contact us today to learn more about our grooming services, or to schedule a grooming appointment for your pet.

Charlotte, NC Pet Grooming Testimonials
"My dog can get severely anxious and nervous whenever we take her to get groomed, but I know that when I bring her to Parker Vet she will be treated with the utmost care, and she always comes home looking great." – Bill S.
"My dogs nails are black, so I do not like to cut them myself. Whenever they need to be cut I trust the professional groomers at Parker Vet. They treat my dog with care, it's fast and affordable." – Trish W.
"My lab Henry has had ear problems ever since he was a puppy, and after taking him to Parker Vet for medical care, I knew it was the only place I wanted to take him for ear cleaning and grooming." – Doris G.